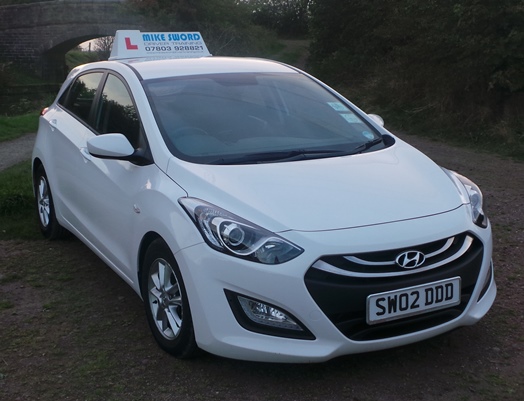 MIKE SWORD DRIVER TRAINING
ENJOY learning to drive!!.... yes ENJOY!!
Welcome to MIKE SWORD DRIVER TRAINING where learning to drive is a most ENJOYABLE experience.
07803 928821
As a POLMONT based Driving School, areas covered are throughout the Falkirk area. The car you'll drive is a very comfortably sized, air-conditioned, eco friendly Hyundai i30 blu-drive. Check out the video here!
You can be collected from work, school, college or wherever your preference is! Click here to see a map!
Whatever your level of experience, before that first lesson you may seem a little nervous (quite normal really!!), but soon you will be at ease. We shall work together, improving your driver skills, and tear up those L-plates. Remember, however, you don't have to be a 'learner' to develop your Defensive Driving Skills.
With more than 27 years expertise in training both learners and experienced drivers, be sure to know that you are in a professional, knowledgeable and relaxed learning environment
(I DON'T DO SHOUTING!!!)
You'll ENJOY your lessons so much that you'll most certainly look forward to your next one, and want to tell your friends and earn FREE LESSONS when you do!!



To get started, try a small Mock Theory Test!!! Theory Test Pro is THE site to practice and learn. Simpy click on the banner and register.



For other information and updates, please look up and 'like' the Facebook page by following this link:
Your training programme will closely follow the SMARTLEARNERS programme,
particularly in the early stages, for reviewing at home before and after lessons.
Please do have a good explore around the site, and the Facebook page too, for loads more info.
If you can't find what you are looking for or require more information, please contact now by calling:
07803 928821
ENJOY learning to drive!!.... yes ENJOY!!
I look forward to seeing you soon!