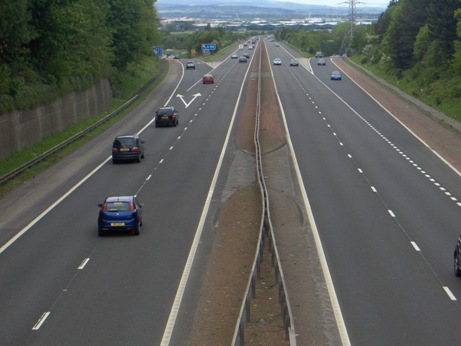 The Pass Plus Course
Gain valuable experience and save on your insurance!
Congratulations!!! You've passed your test and now have your Pink Licence. Enjoy the moment!! But have you stopped learning?
Your Test confirms that you can drive competently in the Falkirk area. You're new full licence now allows you to drive more or less anywhere. The world is your oyster!!
The real Test is NOW!!! You are testing yourself every day!! Can you honestly say that you can drive competently, comfortably, capably and in control in any environment, safely and stress free?
DID YOU KNOW…? In the first year of driving, one driver in five is involved in an accident.
DID YOU KNOW…? Every day in Britain, 2 under 25s die in road accidents.
Let's minimise the risk of that being YOU!!!!
PASS PLUS is a vital part of the 'Learning to Drive' process.
The benefits are to gain experience in new road conditions and therefore minimise your risk and be involved in a road accident. As said above, your test confirms your competence for driving in Falkirk. You now have a new found freedom to drive wherever you wish!
You should also be eligible for a substantial discount from your insurance company.
Please check with insurance companies for their Pass Plus discounts.
It may well be more than the cost of the course!!
There are 6 modules to complete:
1. Motorways.
2. Dual-carriageways
3. Rural/Country Roads
4. Urban Roads
5. All-weather driving
6. Night Driving
The PASS PLUS course runs for 2 sessions of 3 hours covering all 6 modules.
The training environment during the Pass Plus course will be relaxed.
We will be working in the Real World rather than the Test World you will have been used to.
There is no test at the end, other than the test you will undertake each and every day to make each and every drive safe and risk free
Areas covered will likely be either Edinburgh, Glasgow or Fife depending on where you're future driving is likely to be!
The multi-lane motorways of Glasgow are a particular experience, but lets not forget the high risk of those rural roads of Central Scotland and beyond!
All 6 modules will be covered, if not in a practical way, then certainly by theory and discussion. Much of it you should already know.
The emphasis is on risk management, accident prevention and to make you a much more aware and safe Defensive Driver.
The Pass Plus Course costs £150.